NEW CLICK HERE FOR THE AMAZON PRIME PAGES!
CLICK HERE FOR OUR NEW ON-LINE STORE GOLD PROSPECTING AND MINING PRODUCTS AND ELECTRONICS METAL DETECTORS AND MORE!!

CLICK HERE FOR THE MAIN IOWA GOLD START PAGE
NEW IOWA GOLD FORUM WHERE TO GO, BUY SELL AND TRADE, EVENTS IN IOWA
NEW!! GOLD HOW TO PAGES HOW TO BUILD YOUR OWN GEAR!!
NEW BIG GOLD HOW TO PAGES FULL OF PLANS AND TIPS AND TRICKS OF HOW TO FIND GOLD
WHERE TO FIND GOLD IN THE USA A STATE BY STATE GUIDE
TECH SPECS ON GOLD WHAT IT IS ETC.
GOLD EQUIPMENT REVIEW GEAR WE HAVE TESTED AND WHAT WE THINK OF THE PRODUCT
DETECTOR PAGES GOLD AND COINS OR TRASH AND TREASURE TIPS AND TRICKS AND HOW TO PAGES
GOLD EQUIPMENT QUICK FIXES COOL TIPS HERE AND MORE ON HOW TO SET UP GEAR AND MORE TIPS AND TRICKS
IOWAGOLD NATURE AND TRAVEL PAGES!

HOW TO SET UP AND RUN A BLUE BOWL
---
Blue Bowl Instructions
A few minutes spent reading these instructions will save you time and produce amazing results.
The recovery unit must be kept clean and free of any oily substances. Wash the interior surfaces with a mild detergent to remove any oils. This should be repeated periodically to ensure the bowl surfaces are clean and oil free.
For pump connection, install a tee at the pump outlet, and a 3/4" hose-bib fitting to the side outlet of the tee. Then connect a garden hose to the ball-valve connection on the recovery unit as illustrated above. A 12 volt submersible pump is an ideal low pressure water supply for the unit. The Bowl requires less than three gallons per minute.
The Blue Bowl can be used at home with a simple garden hose connection, however, air bubbles in municipal water supplies may cause the loss of some 100 mesh gold particles. Air bubbles clinging to the sides or bottom of the unit will slow down the separation process.
The recovery unit legs will extend over suitable containers, i.e., five gallon plastic pails. Open the water control valve slowly. When the water reaches the rim of the bowl, adjust the flow to prevent overflow. Level the unit so water discharges evenly over the top of the center cone.
Carefully prescreen concentrates to at least 30 mesh before adding them to the bowl. Add small amounts of concentrates near the outer rim. Avoid excessive buildup around the base of the cone!
For recovery of micro-fines use a 50 or 100 mesh sieve and start with a low water level. Increase water level slowly until waste discharges over the center cone. Adjust control valve to maintain a constant water level. Note: Keep water flow 1/4" from the top rim of the bowl using 50 mesh screened material; 1/2" from the rim using 100 mesh.
Concentrates, especially finer mesh, should never be added dry! Pre wet the concentrates and add a few drops of a wetting agent such as Cascade Rinse Aid to break up surface tension and prevent material from floating, causing a loss of micro fines.
Blue Bowl Setup Instructions
There are several different ways to set up the gold concentrating bowl. The single bucket system utilizes a garden hose with a constant pressure water supply (water pump, city water supply). The alternate system below re-circulates the water using two 5 gallon buckets with a 12 volt water pump.

Concentrates from dredge or sluice should be screened down to at least 20 mesh. The material should be screened down further for the best results.

Place the Bowl on top of a standard five gallon plastic bucket then level the bowl. Attach a garden hose (water supply) to the hose fitting on the Blue Bowl.

Once the Bowl is level, adjust water flow with the ball valve to approximately 2 gallons per minute. Adjust the water flow so that water is just slightly below the outer edge of the bowl, and almost over flowing. An even swirl pattern around center cone is desired. This may require additional leveling.

It is recommended to slowly feed the Bowl with wetted concentrates using a tablespoon or small scoop. Do not over load the bowl with material. The material should be fed slowly along the outer edge of the bowl. Over feeding will result in excessive material building up at the base of the center cone. Practice makes perfect.

When using the re-circulating system (2 buckets and 12 V pump), a wetting agent, such as Gold Drop (GD-1) is highly recommended. This will enhance fine gold recovery.

When cleaning out the Bowl it is recommended to shut the water flow off and suck the material out with some sort of suction device (GBS-1, Gold Bottle Sniffer), rather than dumping the Bowl and having to re-level the unit.

The Blue Bowl will not wash all the black sand out, consequently it leaves some of the heaviest material behind with the gold.

Bucket kits are not included but all parts should be easily located at your local hardware store. We recommend that you use 1.25" PVC tubing with a 1.5" a male threaded adapter. Then drill a 1.50" hole with a circle saw and hand thread a 1.50" male adapter into the side of the bucket.12 volt pumps (Model RP-12V) are available at Pioneer for $29.95. Complete Blue Bowl kits are also available, just add water and concentrates.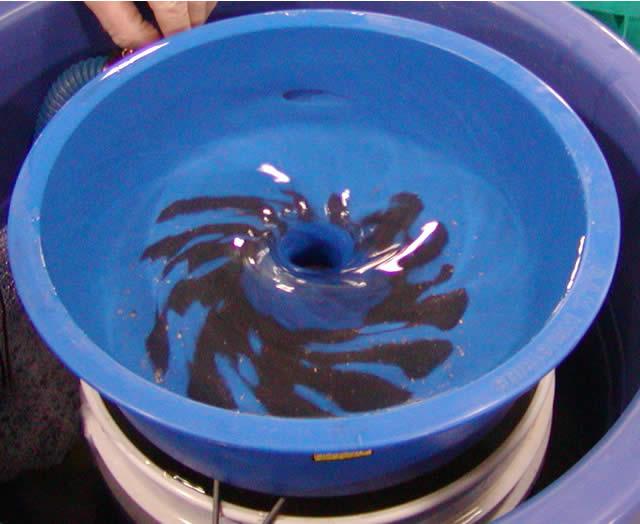 Blue Bowl micro Gold recovery system


Hand panning concentrates smaller than 20 mesh is difficult and tedious, even an expert panner loses a lot of micro fine Gold. The Blue Bowl, used properly will recover Gold as fine as talcum powder.
Equipment needed: Blue Bowl, gem tumbler, gold pans, 20, 50, and 100 mesh sieves, 20 gallon plastic tub, 4 gallon plastic buckets, sniffer bottle, tumbler, cast iron skillet, vinegar, table salt and wetting agent.
Classify your material into different sizes, Gold larger than 20 mesh can be picked the out with tweezers, and can be processed using a micro sluice or Gold wheel, i.e., Desert Fox, Gold Genie, etc. Gold smaller than 20 mesh calls for the Blue Bowl. After processing your concentrates with a Blue Bowl, place prescreened minus 20 mesh concentrates into a tumbler, add acidic acid "white vinegar," and tumble over night. Remove the concentrates from the tumbler, then rerun them in small quantities in the Blue Bowl, using a small scoop. When finished, extract the Gold with your snuffer bottle.
Mix the remaining black sand, and the black sands discharged from the Blue Bowl with equal amounts of table salt. Place the mixture into a cast iron skillet and heat until mixture is scorching hot and completely dry. Pour the hot concentrates into a plastic bucket or small tub of cold water. This procedure fractures the attached Gold from the sodium and black sand. Collect the processed concentrates and rerun them again using the Blue Bowl at a reduced water pressure and water level.
This process will take extra time, but you will recover the micro Gold conventional panning washes away. After the concentrates have been processed, remove the Gold from the Blue Bowl using a snuffer bottle. Is it worth the extra effort? You bet! More often than not, there is 4-7 times more micro Gold than visible Gold in your black sands. I threw away a small fortune in micro Gold in my haste to clean up the concentrates of an eight inch dredge. A mate turned me on to using a Blue Bowl to reprocess my black sands during the winter months after dredge season closed. At the end of the season I might have twenty, five gallon buckets of black sand. From a single bucket I recovered 25 dwt before tumbling and roasting using the Blue Bowl. The black sands had been screened and processed using a popular Gold wheel before I tried using the Blue Bowl
---